Friday tea time
Well hello there. I can't believe its only been 11 days so far, that's probably because Dickie DooDah has been working from home for 3 weeks now. As we come to the end of another work week it's a good time to look at what I've achieved (or more truthfully Not). To be honest I don't feel I've done much this week, as I've had good days and bad days, and oh my, the distractions and sad news. I'm trying not to read too much, enough to keep well informed but no so much that I start feeling miserable. Very important that one, and so are the daily walks if I can manage it. Here's a tangly pile of wood we saw in Leechpool woods this week.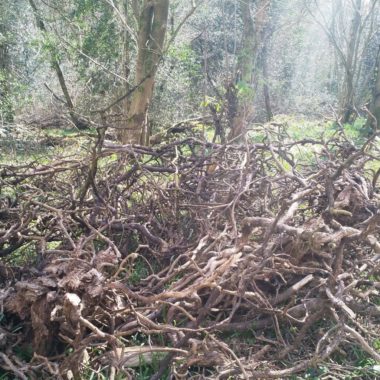 Soooo, I'm keeping up my painting afternoon on Thursdays. I usually go to the group run by the brilliant teacher Kate Tugwell of Kates Art Classes, and what she calls 'Artynoons'. We gather and paint or draw, everyone using different mediums, chat and have tea and Kate's home-made and very yummy vegan cakes. This is a follow on to my taking a course in acrylics 2 years ago (wow, can't believe it was that long ago) as I was a complete beginner with proper painting, and had always wanted to be able to do it, like my maternal grandmother. She painted weekly with a group, almost until she died at the grand old age of 94.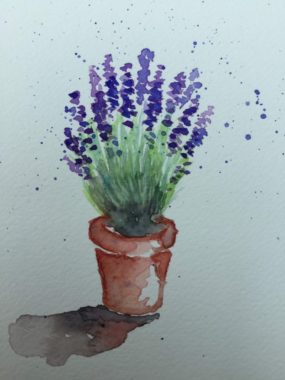 This weeks painting is another watercolour, this time I followed a You Tube tutorial to produce a 10 minute pot of lavender. I think it worked quite well, I still can't quite believe I do seem to be able to paint. Thank you to my daughter for encouraging me to do this, although I think I'll never have her natural flair.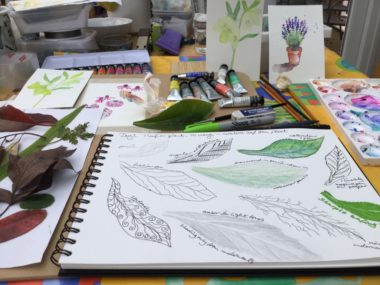 I've also today joined a '30 day sketchbook challenge' #AtHomeInApril organised by Magenta Sky. She usually runs one in the new year, but has started this one to help creativity in adults and also give ideas for parents looking after children at home from playgroup or school. My sketching is OK, but I'm hoping to improve this over the coming days, trying new techniques and hopefully becoming a bit looser in the process (no not a big looser). I didn't really need himself telling me that some of yesterdays sketches weren't so good…..I know…but that's not really the point of the exercise. This challenge is more about fun, experimenting, being free, and most importantly about mindfulness, especially in this weird time that we are in. It's never to late to join in…..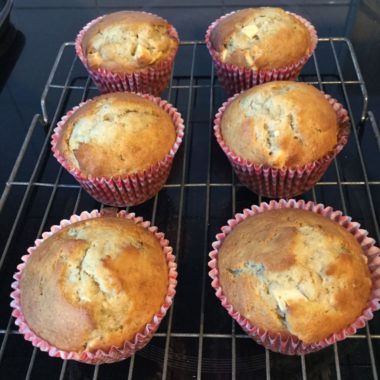 I've also done a spot of baking this week. These are simple 'Banana and white chocolate muffins' that I haven't made for about 5 years now, taken from Nigella Express, although hers have butterscotch chips. I only made half a batch as I figured 12 was waaaaay to many sweet treats for the two of us, and it worked nicely with one egg. It's nice to feel I have a little more time to do stuff like baking.
Who knew? I've actually done more this week than I thought. Enjoy your weekend, Sarah x