Wednesday tea time
Hellooo there, and welcome back. Open Studios are over for another year, and we had a very successful fortnight. Thank you to everyone who came to see me at Sedgwick Park and then at Angela's in Pondtail Drive. I have to say I loved being at Sedgwick park, it was such a buzz, and a really lovely venue.
So now it's back to normality and preparations for the Beadwork Fair at Ardingly on Sunday July 21st, I actually started today and also made beads to restock my Etsy shop, which got raided (in a nice way…lots of sales) and needed topping up. I have been preparing some new sets for your delection, so pop over and have a look-see. Here's one to start you off.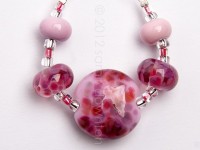 Back on the topic of house and garden, I'm supposed to be sorting the gardens this year, but it's already July, eeeek! I'm dying to visit Hampton Court Flower show again next week, but have to keep telling myself that my day (and money) would be better spent actually gardening and buying some plants/landscaping materials/someone else's labour. You see the problem is, that I love the idea of having a designer garden to sit in, but find whenever I do garden, that it's always the same….i.e. pulling out the weeds I pulled out 4 weeks ago. How dull is that? So what's a girl to do? I obviously need a low maintenance design, and someone to do the boring stuff as I'm' always so busy……..food for thought…..maybe I should go to the show and get some (more) inspiration …. now where did I put my RHS card?