Helloooo. And welcome to a newish new year of beads, thoughts and life.
I made a promise or resolution (again) to try and get out and about more this year, including finding and joining a new art/ craft/jewellery making course to replace the one I used to attend in Bromley.
So in that vein I'm halfway through my first ever painting course, learning to use acrylics, and totally loving it. It really bugs me that I can't paint, and have only ever achieved a sort of 'colouring in' style of work. Of course my daughter is a fantastic painter and artist, and my maternal grandmother painted until she was about 92, so I feel it might be in me to do this.
The class is brilliant, teaching us techniques so we can (hopefully) go on to do anything, and we even get 'healthy' cake during tea break, yum. So far I've painted……..
week 1) a part done woodscape (first ever attempt at a proper painting with a wash and all that). this used a wash, then trees, then another thin wash, then more trees and a scrubby bit of land to settle in the trees. It needs way more work, branches, more washes and more trees, more ground and grass stuff, maybe even some leaves, but I think I rather like the skeletons of winter trees.
week 2) a mutant cockerel …using acrylics like watercolour and a very floppy brush that was extremely difficult to control and kept going all over the place. I do know he's dreadful, looks like he's wearing wellies.
and week 3) a hilarious blocky mountain scape using a palette knife and thick paint. I think the flowers are the best bit.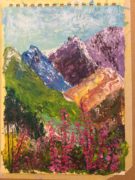 Of course all the paintings could be way better, but were done in a very short space of time and I am of course a complete beginner, so it's good to be reminded how frustrating it can be when you see the expert show you something that you think you can replicate, only to find you can't and she makes it look so easy!
I know they're not very good so please don't judge me, I am a complete beginner after all. I wasn't going to show you these but it's always good to have a starting point so you can see how you have hopefully improved over time, whether it's painting or making beads.