Thursday evening
If you have come here via Bead Magazine welcome! and welcome also if you've arrived via my advert in the Making Jewellery courses supplement. I have new course vacancies on my tuition page and these are currently changing daily.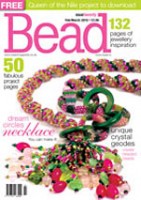 I'm very pleased to be featured in Bead magazine in the 'Makers Profile' slot this month, and if you've read the article you'll know that my objectives for this year are to direct my business to be a more web- based one. To that end we've been working really hard the last week to bring my web site up to date and give it a bit of a makeover. I'm very pleased with how it's looking now. I have a lovely fresh gallery with lots of lovely photos, and an updated front page (thank you Dickie). I've also re-stocked my bead shop at last, the first of many re-stocks this year. I have other changes to make but I'm not going to bore you with that, it's for me to do and you to find when I've done it!
I've also been very busy this week getting ready for the bead fair at Ardingly this Sunday. I will have my usual mix of colourful beads, some new silver chains suitable for my Cloud Beads and I'm having a bit of a spring clear out so will have some reduced price sets and of course I'm refilling my popular bargain pots. Do come and say hello.
Here's a peek at the new beads in my shop