Wednesday morning
It's all change here I tell you! I had my Grand Etsy shop opening last Thursday, well I say grand but what really happened was I put 4 items up for sale and did a tiny bit of promotion. And guess what…..I've already made 2 sales…..and I have restocked the shop again too…..phew, I think I need a lie down now, the excitement is getting too much! lol. And have you noticed more changes here? You can now find a link straight to my Etsy shop in the left hand toolbar of my blog and shop. This has a few sneaky peeks of what is on offer over there, so do have a mosey on down and see what's occurring. Also you'll notice a link to Twitter, where I will be announcing when I have new pieces in my Etsy shop and this website shop. So if you want to keep up with my latest work, you can become a follower.
As well as this I have also restocked my shop here with some new bead sets, perfect for a Valentine present, and here's a peek……
Today the kiln is heating up as I write, I've sort of made Wednesday my main bead making day, with another day thrown in each week if I can. Of course this will be subject to change as my teaching schedule is very varied from week to week. I still have a space for one person on Wednesday 17th March on a One Day Beginners Course and if you're wanting to learn but this date doesn't suit then I still have days available in my diary to pick from. Contact me for more details or if you want this date. Life is certainly never predictable or dull here.
I'm going to put a photo here of my favourite set at the moment, which sold from Etsy, but I'm planning to make some more so keep a look out for them. This set is called Silver Waters and has dreamy transparent shades of blue, turquoise and teal with a pastel spiral inside and a slight golden glow when you view the beads from the side.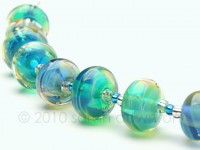 Toodles……..I'm off to play with my hot glass (in the snow)(It's snowing here)(slightly)(ish).