Lampwork Jewellery
The jewellery on this page is a selection from my art glass designs which incorporate my lampwork glass beads paired with sterling silver. Most of the designs are repeated from time to time but as the beads are all handmade individually, no two pieces of jewellery will ever be exactly the same. I do however spend a great deal of time carefully selecting matching beads for shape, size and colour when putting together my jewellery.
All pieces are presented in a sarah downton gift box ready perfect as a present or a treat for you.
The pieces on this page are sold on a first come first served basis and the photos show the actual item for sale (i.e. there is only 1 of each item).
Please contact me to buy including the name of the items you'd like to order in your email. I will get back to you with payment information and delivery details.
FREE DELIVERY FOR ORDERS OVER £50
Orders under £50 are charged at £2.50 for P + P
For special delivery and extra ordering information please see Terms and Conditions.
Please click on the pictures to see a larger image.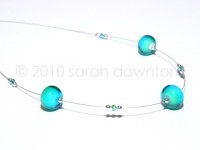 Porthmeor Floater Necklace – green/turquoise  £28
A vibrant necklace with my popular Porthmeor bead this time in green and dark turquoise accompanied by greeny turquoise sparkly Swarovski crystal accents.  18″ long and finished with sterling silver beads and fastener. The necklace you receive will vary slightly from the one in the photograph due to the handmade nature of these pieces.
Complete with gift box
---