Cloud Beads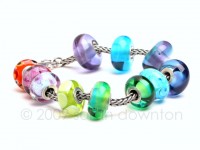 ………..because every bead has a silver lining
I'd like to introduce Cloud Beads, my new range of beads that fit the popular European charm bracelet systems. Of course all the beads here are individually handmade by me in my West Sussex studio and have been annealed for durability. I have then hand fitted all the sterling silver cores, making each one a truly handmade collectable bead to celebrate your special moments in life or simply pamper yourself or your friends.
Rolling Clouds fit Troll bracelets and Ora Clouds fit Pandora and Troll.
Beads are sold on a first come first served basis.
Please contact me to buy including the name of the items you'd like to order in your email. I will get back to you with payment information and delivery details.
FREE DELIVERY FOR ORDERS OVER £50
Orders under £50 are charged at £2.50 for P + P
For special delivery and extra ordering information please see Terms and Conditions.
Please click on the pictures to see a larger image.