Found another cool site, literally, Snowdays hours of fun. Make sure to enter your name and location, or you'll never find it again.
Talking of snow (it's the weather chat again – well, I am in England) and all things Christmasy, they've been filming an Argos advert in Horsham town today and yesterday, lots of people wandering around with boxes made to look like Christmas pressies, no sign of Richard E Grant though. It will be interesting to see the finished thing. Photo courtesy of Rick.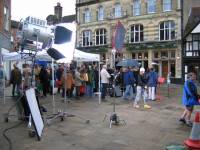 I think it's time for more Chihuly photos today………..